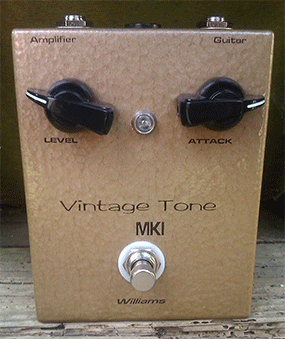 A very different circuit to all following Tonebender's, the MK1 used an OC75 and 2 Texas Instrument 2G381 transistors. Although OC75's are still reasonably easy to obtain, TI 2G381's are a different matter and usable ones are super scarce. Why did it have TI 2G381's in it? Likely for no other reason that they were cheap at the time. The circuit itself is often considered by far the trickiest of the Tonebender's to build well and this could be one reason why Sola Sound dropped the MK1 and replaced it with the far more stable MK11. The Attack pot generally has most of it's sweep up to around 12 on the dial, and then onwards it's on full fuzz, there are a couple ways this could be changed but personally I don't mess with circuit and love it as it should be. If it ain't broke........
Most originals I have played tend to 'gate ' the sound pretty early, resulting in shorter sustain than some other germanium's, although this isn't always the case and depends bias of the circuit. The MK1 should be able to clean-up nicely, again adding to the great range of tones available.
Although I usually tend to use a superb combination of nos Germaniums, I have just got a small stash of TI 2G377 transistors in stock. These are near identical to the original TI 2G381 and sound superb.