Williams OC44 Ranger -

Special LTD Edition

- Germanium Treble Booster
Update 08/23: I have a few available CONTACT me for more information.
This Special Edition Limited run of Ranger features an original 1960's Yellow Jacket Mullard Transistor, a 3-way Body Switch and Gold Hammered Case.
Based on the original Range Master Treble Booster, this little box was the secret ingredient of many of the 1960's guitarists from the UK. It's sound is heard at its absolute best on early Eric Clapton recordings, most notably the Bluesbreaker album with John Mayall. Set your tube amp to the edge of breaking-up, just at that sweet spot, and dial in the The Ranger. The Ranger kicks the amp into tube heaven, highlighting the upper mids, giving all those Rory Gallagher, Eric Clapton tones we love. Dirty, raw and fiery but with that shimmer and sweet tone that also cleans up amazingly well with the guitar volume control.
This Special Edition Ranger is fitted with a 3-way switch that lets you choose between the normal, sweet sounding, upper mid boosted Range Master tone and 2 more alternatives of the original tone but with more body and thickness. This is a super useful switch that as well as offering a whole bigger range of tones from the pedal, also allows you to quickly and easily match the pedal with different amps and / or guitars. A really great addition to what I think is one of the best sounding pedals ever made.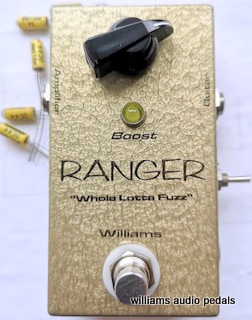 This Special Edition Williams Ranger features an original Yellow Jacket Mullard OC44 Transistor, carefully selected for gain. Vintage Capacitors carefully are also selected to match the tone.

This is a short demo of the old style Ranger before the new tone switching option was added. This video nicely demonstrates the difference between the pure amp tone and the Ranger being used. Coming soon will be a new video including the tone switch.
Limited Original 1960's Yellow Jacket Mullard OC44 Transistor, very carefully selected for the circuit
A selection of the finest vintage capacitors from manufactures such as Hunts and Mullard and Erie.
Highest quality electrolytic capacitors
Carbon Comp resistors.
Neutrik Sockets, Alpha pots, quality Stomp Switch
True-bypass
Strip board soldered board, like the original
Limited Edition GOLD Hammerite painted Eddystone / Hammond box
LED indicator
Hand-Labeled Design
Individually numbered / signed Pedal
Life-time warranty on all Williams Audio parts and work
Please CONTACT for availability