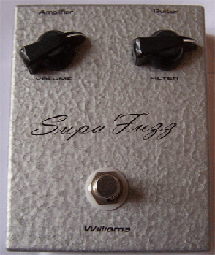 Again, like the standard MK11, bring back the volume on the guitar and the Supa Fuzz takes on a different feel, things start to clean-up, starting from a dynamic crunch superb for rhythm work, through to almost clean with a slight crunch and finally to a shimmering clean sound. All the time, retaining the individual feel of the Supa Fuzz.
The Williams Supa Fuzz is built as close to an original 1960's model as possible. Using my own original as a reference model, parts have been carefully selected to achieve the exact tones of the Supa Fuzz whilst also providing stability and low background noise.
In the Supa Fuzz I use a trio of Vintage Germanium Transistors, usually Mullard or NKT. These Transistors are specially selected for gain, low leakage and low noise. These are then combined with the very best selection of nos (new old stock) capacitors from manufacturers such as Mullard, Hunts and Erie. All resistors are either original 1960's or the very best modern Carbon Composition.